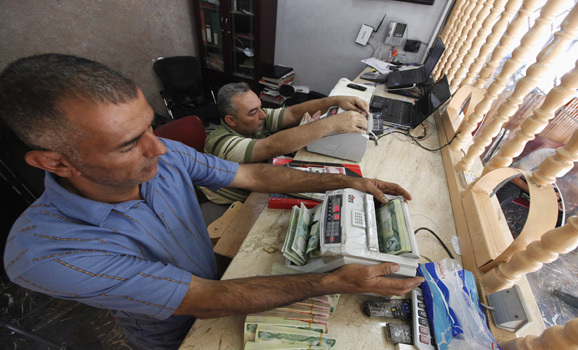 Despite the attention given by Iraqi media to the increase of gold reserves, locals are still oblivious to the repercussions of such an act on their daily affairs.
The monthly statistical report of the International Monetary Fund stated that over the three months between August and October of last year, Iraq's gold holdings quadrupled to 31 tons, the first time something like this has happened in years. The value of gold as a strategic reserve has grown over the past few years due to the continued instability of the U.S. dollar exchange rate.
International banks perceive gold as having long-lasting value that is not affected by rapid economic development. Gold can be used to compensate for insufficient cash reserves in the wake of political or economic crisis. In that context, Iraq is probably the country that is most in need of a great deal of gold reserves given its succession of political and economic crises.
"Gold is the first shelter for countries in times of crisis," said the Iraqi economic analyst Majid al-Suwari.
According to Parliamentary Economic and Investment Committee member Abdul Abass Shiyah, "it is normal for the public not to read between the lines of sharp increases in gold reserves."
"The Iraqi dinar exchange rate is based on the amount of cash reserves, which include not only money but gold as well," said Shiyah, a member of the Dawlat al-Kanoun parliamentary bloc led by Prime Minister Nouri al-Maliki.
Gold is the most stable component of official reserves. It will result "in the stability and possibly the improvement of dinar exchange rates," he added.
Shiyah reiterated that the public will sense indirectly the impact of the increase in gold reserves.
"When the value of imported goods decreases following the increase in the value of the dinar, which directly correlates to the increase of cash reserves, the public will remember the steps the state took to boost gold reserves," Shiyah added.
The Central Bank of Iraq announced in August of last year that cash reserves had reached $67 billion, which is a first in the country that relies entirely on oil exports to finance its budget.
"The Iraqi reserve is figuratively described as 'cash,' but in fact it has multiple components. Iraq owns U.S. dollars, euros, pounds, gold and different types of securities," said Shiyah.
He added, "The central bank uses a part of its huge reserve to fund major governmental projects. Even though a part of this reserve is disseminated between international banks and benefits Iraq financially, the central bank ought to fund some weighty governmental activities."
Since 2003, Iraq has had an insignificant cash reserve. Some sources state that those who were in charge of the Iraqi economy during the first months following Saddam Hussein's toppling converted a ton of gold, which was the only reserve held by the central bank, into cash.
Economic Analyst Majid Suwari said that Iraq's reserves amounted to $39 billion in 1979; however, Saddam's policies squandered that fortune. In 2003, Iraq's debts reached $125 billion.
"The central bank policy is currently based on the diversification of reserves. However, if the policy of purchasing gold had been adopted two years ago when the value of one ounce was about $500 to $600, Iraq would have quadrupled its investment gains," he added.
He concluded that "this initiative started late, but not too late." Suwari expects the central bank to pursue the policy of increasing gold reserves amid the government's spending tendencies.
He clarified that the Iraqi government needs the dinar to cover its huge expenses. The central bank provides it with the necessary Iraq dinar in exchange for U.S. dollars obtained through the oil trade. Afterwards, the central bank converts dollars to gold.
Source: Al-Monitor


Iraq Berita Ekonomi: Bank Pusat Iraq Meningkatkan Rizab Emas
Walaupun perhatian yang diberikan oleh media Iraq kepada peningkatan rizab emas, penduduk tempatan masih sedar akibat perbuatan itu mengenai hal ehwal harian mereka.

Laporan bulanan statistik Tabung Kewangan Antarabangsa (IMF) menyatakan bahawa dalam tempoh tiga bulan antara bulan Ogos dan Oktober tahun lepas, pegangan emas Iraq empat kali ganda hingga 31 tan, sesuatu yang kali pertama seperti ini telah berlaku pada tahun-tahun. Nilai emas sebagai rizab strategik telah berkembang sejak beberapa tahun kebelakangan ini disebabkan oleh ketidakstabilan berterusan kadar pertukaran dolar AS.

Bank-bank antarabangsa melihat emas sebagai mempunyai nilai yang berpanjangan yang tidak terjejas oleh pembangunan ekonomi yang pesat. Emas boleh digunakan untuk mengimbangi rizab tunai yang tidak mencukupi ekoran krisis politik atau ekonomi. Dalam konteks itu, Iraq mungkin negara yang paling dalam keperluan perjanjian besar rizab emas yang diberikan penggantian krisis politik dan ekonomi.

"Emas adalah perlindungan yang pertama bagi negara-negara di masa-masa krisis," kata penganalisis Iraq ekonomi Majid al-Suwari.

Menurut ahli Parlimen Ekonomi dan Jawatankuasa Pelaburan Abdul ABASS Shiyah, "ia adalah perkara biasa bagi orang ramai tidak membaca antara garis peningkatan mendadak dalam rizab emas."

"Dinar Iraq kadar pertukaran adalah berdasarkan jumlah rizab tunai, yang tidak termasuk wang sahaja tetapi emas juga," kata Shiyah, ahli blok Dawlat al-Kanoun parlimen yang diketuai oleh Perdana Menteri Nouri al-Maliki.

Emas adalah komponen yang paling stabil rizab rasmi. Ia akan mengakibatkan "dalam kestabilan dan mungkin peningkatan kadar pertukaran dinar," tambah beliau.

Shiyah mengulangi bahawa orang ramai akan rasa tidak langsung kesan daripada peningkatan dalam rizab emas.

"Apabila nilai barang-barang yang diimport berkurangan berikutan peningkatan dalam nilai dinar, yang secara langsung ada hubung kait dengan peningkatan rizab tunai, orang ramai akan ingat langkah-langkah kerajaan mengambil untuk meningkatkan rizab emas," tambah Shiyah.

Bank Pusat Iraq mengumumkan pada bulan Ogos tahun lepas bahawa rizab tunai telah mencapai $ 67000000000, yang merupakan pertama di negara yang bergantung sepenuhnya kepada eksport minyak untuk membiayai bajet.

"Rizab Iraq kiasan digambarkan sebagai 'tunai', tetapi sebenarnya ia mempunyai pelbagai komponen. Iraq memiliki dolar AS, euro, pound, emas dan pelbagai jenis sekuriti, "kata Shiyah.

Beliau menambah, "Bank pusat menggunakan sebahagian rizab yang besar untuk membiayai projek-projek kerajaan yang utama. Walaupun sebahagian daripada rizab ini disebarkan antara bank manfaat dan antarabangsa Iraq kewangan, bank pusat sepatutnya untuk membiayai beberapa aktiviti kerajaan yang berat. "

Sejak tahun 2003, Iraq telah mempunyai rizab tunai yang tidak ketara. Sesetengah negeri sumber-sumber yang orang-orang yang menjaga ekonomi Iraq semasa bulan pertama berikutan menggulingkan Saddam Hussein tan ditukar emas, yang merupakan rizab hanya dipegang oleh bank pusat, kepada wang tunai.

Penganalisis Ekonomi Majid Suwari berkata bahawa rizab Iraq berjumlah $ 39000000000 pada tahun 1979, bagaimanapun, dasar Saddam mensia-siakan bahawa nasib. Pada tahun 2003, hutang Iraq mencapai $ 125000000000.

"Dasar bank pusat kini berdasarkan kepelbagaian rizab. Walau bagaimanapun, jika dasar pembelian emas telah diterima dua tahun lalu apabila nilai satu auns adalah kira-kira $ 500 hingga $ 600, Iraq akan empat kali ganda keuntungan pelaburan, "katanya.

Beliau membuat kesimpulan bahawa "inisiatif ini bermula lewat, tetapi tidak terlalu lewat." Suwari menjangka bank pusat untuk meneruskan dasar rizab emas yang semakin meningkat di tengah-tengah kecenderungan perbelanjaan kerajaan.

Beliau menjelaskan bahawa kerajaan Iraq perlu dinar untuk menampung perbelanjaan yang besar. Bank pusat menyediakan dengan dinar Iraq perlu dalam pertukaran untuk dolar AS yang diperolehi melalui perdagangan minyak. Selepas itu, bank pusat menukarkan dolar kepada emas.